Microair T2000 Transponder
2 1/4" panel mount transponder


---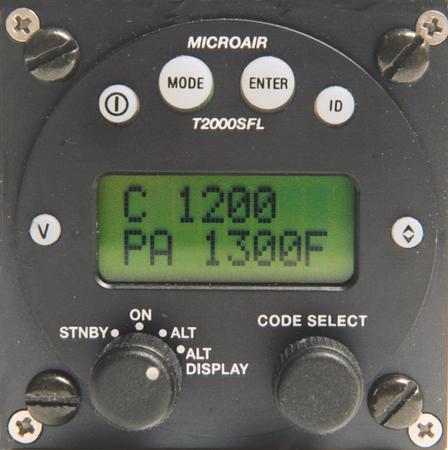 This TSO'd & JTSO'd Transponder is one of the world's smallest and lightest of its kind, weighing in at 600 gms (21.1oz). The T2000SFL has very low power consumption and many new innovative safety features only found in much larger and more expensive transponders.
Dual line code display with toggle
Mode A and C operation
VFR hot key with ability to input the VFR default
Displayed encoder Altitude (QNH adjustable)
Assigned altitude entry with +/- buffer alert
Display input voltage with over and under voltage alert
Security Coding with name and registration display on start up
Altitude units adjustable for feet, meters, or flight level (FL)
Specifications
TSO Compliance: C74c Class 1a, Environmental DO-160D, Software Level C Mounting:
Panel mount 2 1/4" (57 mm) round Temperature: -20° to +55° C
Cooling: Not required
Vibration: Constant total excursion of .2 in from 5 to 17 Hz; From 17 to 38 Hz - 3.0 g-pk; From 38 to 500 Hz - 1.5 g-pk, From 500 to 5,00 Hz - 1.0 g-pk
Shock: Rigid Mounting 6 g operational 15 g crash
Power input: .25 amps @ 27.50 volts; .4 amps @ 13.75 volts TX, 80 mA RX
Voltage input: 10 to 33 volts DC negative chassis ground
Dimensions: Round-face model: 61 mm wide x 61 mm high x 160 mm deep (2 1/2" wide x 2 1/2" high x 6 1/2" deep), 600 grams (21 oz).

Wiring Harness
Wiring harness available for connection with most altitude encoders.
Manual

Download full users manual (PDF)
Download Installation manual (PDF)
Order
---
Ordering Information
ORDER ONLINE! or...
E-mail us: Click here
Call us: 1-877-8FLYING (Mon-Fri 8am-6pm PT)
Be sure to check options such as product color or configuration before calling or e-mailing. Most products and options are ex-stock in California and ready to ship, however shipping time will be subject to availability.