AmeriKing AK-450 ELT

Emergency Locator Transmitter

---

ELT, FAA TSO C91a

The AmeriKing AK-450 is an FAA TSO'd approved ELT Emergency Locator Transmitter, types (AF) (AP) Automatic Fixed, Automatic Portable.

The ELT may be manually selected or automatically activated upon a crash and transmit the standard swept tone of 121.5/243.0 MHz simultaneously. In addition, the model AK450 may be used for transmitting Voice Communication to Search and Rescue Teams, on the Emergency frequency 121.5/243.0 Mhz channel. This design is unique.
Installation is extremely simple for the AK 450. All necessary Accessories are provided, including; a High Speed - No wind drag antenna, a telescopic portable antenna, a remote control panel, coaxial cable and wiring interconnection assemblies, and a mounting tray.
FAA TSO-C91a approved ELT types (AF) (AP)
FCC Type Acceptance, Coherent Beacon designed for Satellite Detection. Meets FCC Rule for improved Satellite Detection.
Voice Transmission Cability is included.
Employs Standard DURACELL Alkaline Batteries, "D" size, 6 Cells, due to extremely low power consumption.
Positive Fail-Safe, Sealed "G" Switch.
Smallest size available: 4.27"W x 2.95"H x 5064"L
Lightest weight available: 2 lbs. 10 oz.
Environmental Tested per RTCA DO -160c Env. cat. C1AC/XXXSXXXSXXXXBXB
Two Year warranty.
Made in the U.S.A.
Uses 6 x standard Duracell D batteries (not incl.)
PRICE:

$245 + shipping from CA



HELICOPTER VERSION:

$529 + shipping from CA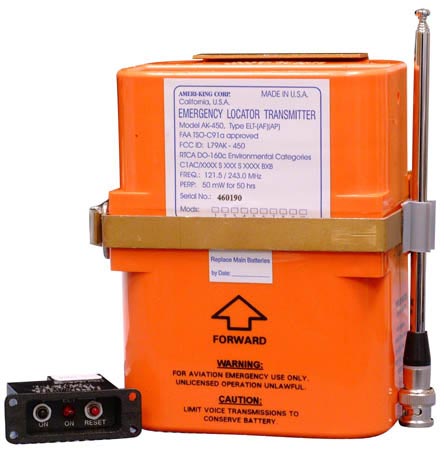 Ordering Information
ORDER ONLINE! or...
E-mail us: Click here
Call us: 1-877-8FLYING (Mon-Fri 8am-6pm PT)
Be sure to check options such as product color or configuration before calling or e-mailing. Most products and options are ex-stock in California and ready to ship, however shipping time will be subject to availability.